Cima Hill (the other side)
Most pictures you see of Cima hill are taken on the part of the hill between the summit at Cima and Kelso station which is west of and downhill from the summit. North of Cima summit, access is not great and the photos don't just pop out at you. Below are a few pictures I took to try to balance things out. They cover that area between Ivanpah and Nipton with some views back toward the summit.
a map is located at the bottom of this page
On the left is an eastbound headed down the hill toward Las Vegas. The train on the right has completed the westbound climb.
Looking southwest toward the summit a second train is visible following this eastbound down the hill. A quick turn to the right catches another eb headed for Nipton
This sequence captures another eastbound.
A cloudy day just east of Nipton reveals a pure SP set of locomotives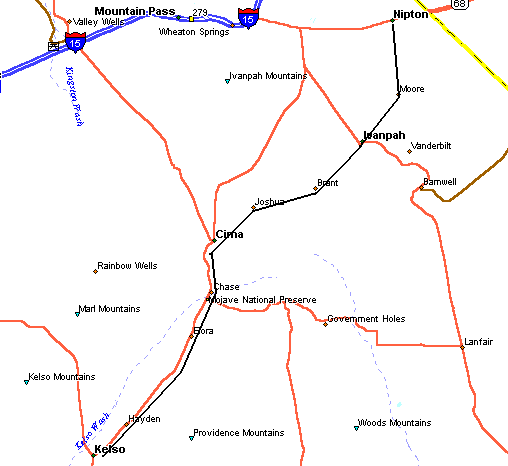 Looking for a place to stay while looking around Cima Hill and Mojave Desert Preserve? Check out Hotel Nipton. Its location on the UP main is enough to remind the dedicated railfan of the Izaack Walton Inn. Nice people, good location, rooms and camping if you want to. The Nipton Web Page is a good place to start.
---