Between Winslow, Arizona and Flagstaff the terrain changes from flat and treeless to the Arizona Divide's section of world's largest Ponderosa Pine Forest. A Westbound crew leaving Winslow sees the mountains around Flagstaff almost from departure. Before they get there, however, they must cross a deep canyon which cuts through the barren plain. Canyon Diablo and its famous bridge are a bit hard to get to, but worth the effort. Below is the result of the two trips I have made out there.
| | |
| --- | --- |
| My latest trip was in the company of my younger son, Jeremy, who is responsible for this picture and some of the better train and wildlife photos below. | |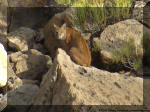 Wildlife is not easy to see, but a pleasant surprise when you come across it. Just after dawn, Jeremy and I heard screaming from down in the canyon. It turned out to be a pair of large Wildcats who spent several hours roaming around their den before disappearing.

Also visible around dawn what a large collection of vultures who appear to regard Amtrak with the same level of boredom common among railfans.