Soldier Summit - 1996
In 1996 I had two opportunities to visit the line from Price to Provo. As good fortune would have it, I caught the transition from "pure" SP-DRGW to a mix of UP, SP and DRGW. As you will see below, the weather was not exactly perfect all the time!
More Soldier Summit pictures in the Rio Grande section
these pictures were some of the first I ever put up. they are not quite as polished as later ones, but they do show an interesting time in the history of Soldier Summit.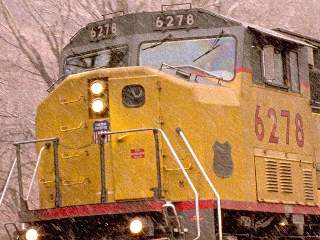 I'm pretty sure that I could hear the crew on SP196 laughing after they watched me stand in the snow for about 30 minutes while waiting for these shots
From time to time, we are all consumed by the need to be "artists". A set of SP ACs, waiting to follow a manifest West down the hill, provided that opportunity.
Few trailers and fewer stacks inhabited the route from Denver to Salt Lake City during 1996. Coal, taconite and manifest trains dominated route. Comparing this curvy, single track, multiple summit line with UP's Wyoming main, makes one wonder if this route will become just a coal dominated branch when the merger is fully implemented.
This looked like a UP coal train until the helpers came by.
One train at Gilluly is fun. Two is a scramble to get the picture right.
With luck, you found some of these pictures entertaining and useful. Please use them if you like. Respectfully request that you credit "Chuck Donaldson" as the photographer.